New Delhi: Generative artificial intelligence (Gen AI), sustainable computing, flexible batteries and the metaverse for mental health are expected to be the top emerging technologies in 2023, according to a report released by the World Economic Forum (WEF) in collaboration with Frontiers Media.
"New technologies have the power to disrupt industries, grow economies, improve lives and protect the planet if they are responsibly designed, scaled and deployed," said Jeremy Jürgens, managing director of the World Economic Forum, in a report.
Find out all about emerging technologies and their impact, according to the WEF.

Generative AI: Gen AI is a type of AI that can take user input and create new and original content. The generated content is based on AI systems learning patterns in data using complex algorithms and learning methods inspired by the human brain. Initially, Gen AI is used to generate text, programming code, images and sounds. But the report says the technology could be used for a variety of purposes, including drug design, architecture and engineering.
"Given the potential productivity gains from the introduction of these new technologies, it is important to be aware of the potential job losses," EPFL Intelligent Maintenance and Operations Systems Professor Olga Fink and Deep Tech Expert founder Julian Weissenberg jointly said in a report.
They say policies and programs need to be considered to support worker upskilling and reskilling efforts to ensure that the benefits of technological innovation are broadly shared and workers have the skills they need to succeed in the changing job market.
At the same time, the report emphasizes the inclusion of "outlier" data and "new social conventions," calling for care to be taken to reduce AI bias based on training data. This suggests that the goals of the application should be clearly disclosed to the end-user and that individual privacy should also be respected, and recommends the development of ethical guidelines and governance structures. The report also suggests that copyright attribution needs to be addressed so that proper credit is given to AI designers, creators of training data, and creators of application instructions.
"If the right controls are put in place, generative AI can give more time to creativity, show the limits of knowledge, and act as a sparring partner to challenge conventional thinking," said Fink and Weissenberg.
Sustainable computing: Data centers, which power online web searches, email, the metaverse, AI, and more, consume an estimated 1% of the electricity produced globally, and are expected to rise as demand for data services grows.
The report states that the next decade will see significant progress towards net zero energy data centers as emerging technologies combine and integrate in innovative ways, making the goal of net zero energy data centers a rapidly achievable reality.
Fink and Andrew Maynard, professor of advanced technology transition at Arizona State University, said in a report that net-zero energy data centers require innovative approaches that integrate liquid water cooling with artificial intelligence (AI) and modular, demand-based infrastructure. "Given the wave of innovation and investment in this sector, there is reason to be optimistic about the coming years," they said.
Metaverse for Mental Health: Excessive screen time and social media can reduce psychological well-being, according to reports. But screen time can also boost your well-being if you use it responsibly.
"Spending screen time building connections in a shared virtual space may help combat the mental health crisis rather than contribute to its spread," AnthroTronix co-founder and former CEO Corinna Lathan and Johns Hopkins Hospital Neurology Professor Jeffrey Ring said in the report.
A virtual shared space is a digital environment where people can interact professionally and socially with each other. The future of these spaces is called the Metaverse and may include shared spaces enhanced with augmented or virtual reality (AR/VR).
With the mental health crisis rising to unprecedented levels in the wake of the COVID-19 pandemic, Laysan and Lin added, "The conditions are ripe for metaverse-enabled mental health treatment." They opine that the number of mental health providers is "insufficient to deal with the growing crisis."
"Ideally, a technology-based infrastructure centered around mental health will support all aspects of mental health: prevention, diagnosis, treatment, education and research," said Lathan and Lin.
Flexible battery: Flexible batteries can be bent, twisted and stretched, making them ideal for use in wearable devices, say Javier García Martínez, professor of chemistry and director of the Institute for Molecular Nanotechnology at the University of Alicante, and Joseph Costantin, associate professor of electrical and computer engineering at the American University of Beirut.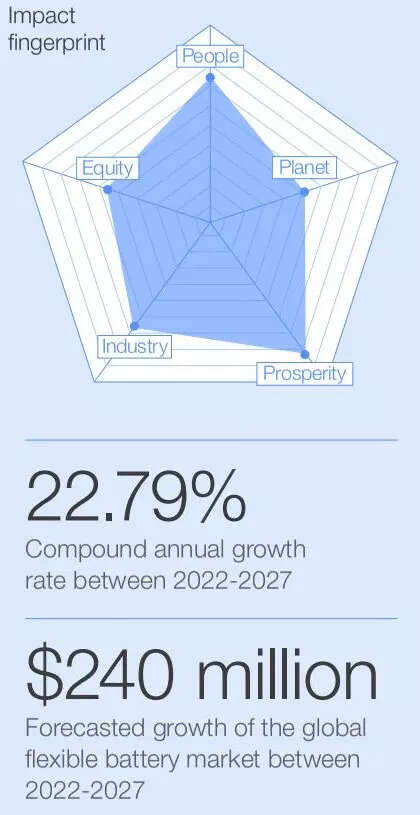 "As the market demand for wearable technology continues to grow, the future of flexible batteries looks promising and further progress is expected. As with all batteries, one of the hurdles to overcome is safe disposal and recycling, which should come as the technology and related applications cycle," said Martinez and Constantin.
Other emerging technologies also include sustainable aviation fuels, designer phages, wearable plant sensors, spatial omics, flexible neuroelectronics and AI-assisted healthcare, according to the World Economic Forum in 2023.