The term Metaverse continues to make headlines, with over 60% of people seeing it in their daily lives. But obstacles remain to more adoption.
Last year, the Metaverse saw great traction as global companies struggled to capitalize on its popularity.
The Metaverse has become Mark Zuckerberg's favorite project. The Facebook chief even went so far as to rename the company to Meta. However, his overzealousness eventually led to the company's stock price crashing.
Nevertheless, reports say its value is likely to reach a staggering $5 trillion by 2030.
During the pandemic, many experienced social distancing and lockdown-induced loneliness.
The future choice for many people is either no social interaction or VR interaction. Metaverse interactions also promise to be more interactive than sending text or looking at images.
Big companies are betting big on the metaverse given its impact on socialization. The virtual world behind the anonymity of your VR headset will melt away your social anxiety. This is just one of the many real-world applications he brings to everyday life.
CoinWire shared some Insight It helps you understand the practical side of technology and includes feedback from over 10,000 respondents surveyed last December.
A staggering 69% of the candidates surveyed say the metaverse influences their entertainment choices in their daily lives. On the other hand, 65% claimed that the Metaverse would reshape social activity.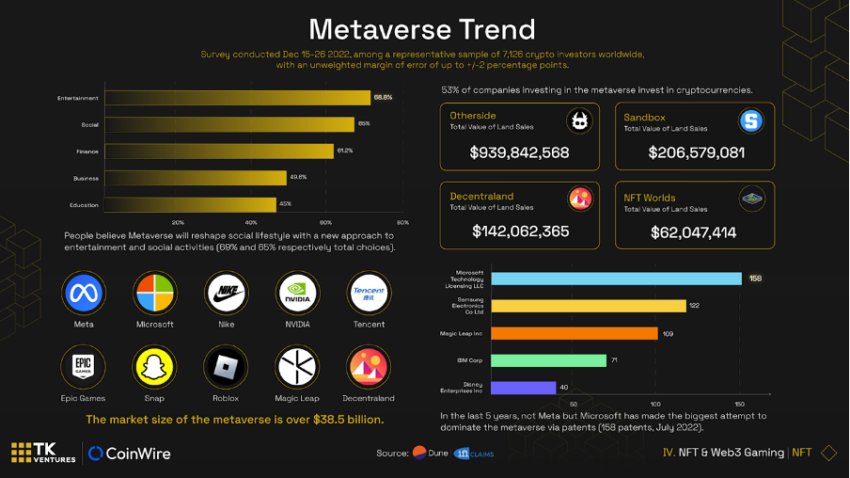 Positive opinions on how it will affect finances, business and education were also high at 61.20%, 49.60% and 45% respectively. As a business example, Microsoft has 158 Metaverse-related patents in the last five years, beating rivals such as Meta, Tencent and Epic Games.
Countries preparing for the Metaverse
Moving from companies to countries, the United States is the most innovative region in the adoption of Metaverse technology. However, India is not far behind China.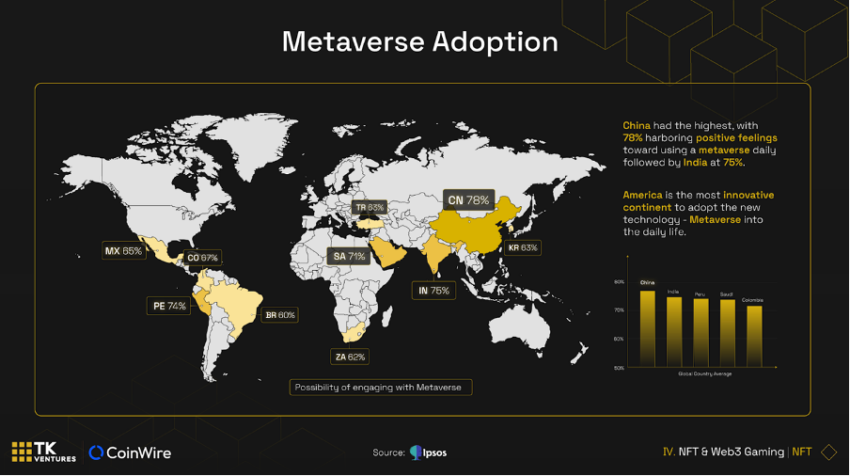 Even the 2023 World Economic Forum in Switzerland last week discussed the emergence of the Metaverse. With over 120 participants, the WEF is rolling out an initiative called 'Define and Build the Metaverse'.
The hype led to a huge surge in Metaverse-related projects. Prices for Decentraland's MANA, Sandbox's SAND, etc. gain Significantly over the last two years.
but stagnant interest
Currently, CoinMarketCap has an overall market capitalization of $14 billion. Moreover, these tokens are expected to go up. Rumors surfaced earlier today about a hybrid virtual reality (VR) and augmented reality (AR) headset from Apple.
That said, this path presents some challenges. Regulation is the main obstacle. This is one reason for the relatively stagnant interest, and explains the Google Trends data showing a gradual decline in interest in the search term "metaverse" over time.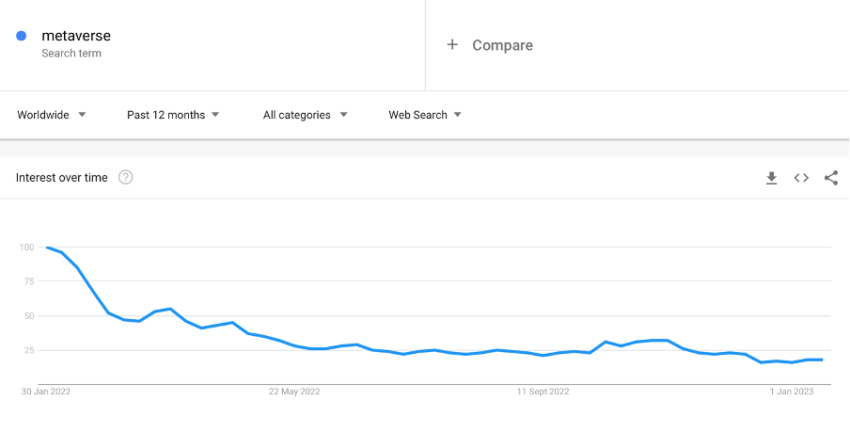 Disclaimer
All information contained on our website is published in good faith and is for general information purposes only. Readers are strictly at their own risk for any actions they take with respect to information they find on our website.