It all started with the creation of the Metaverse business unit, but Telefonica Ventures has already made several strategic investments (bit 2 me, Nova Institute (helium), borderless), supporting the TEF Metaverse business unit roadmap.
In this paper, I would like to discuss the principles behind one of those builders: the use of blockchain to decentralize resources through tokenization.
Distributed Physical Infrastructure Network – DePIN
DePIN is defined as a network that uses tokens to encourage people to crowdsource and build. Real World Physical infrastructure network.
For a better understanding, we will continue to expand it further: Crowdsourcing and building (finding, funding and founding communities of people) people using tokens (digital tokens and/or cryptocurrencies) network (decentralized blockchain network) that encourages The world's physical infrastructure network (a network of real, connected machines, devices, vehicles, or robots that provides goods and services to people and machines in the real world).
This trend may have also been known by other names, such as EdgeFi, Proof of Physical Work (PoPW), and Token Incentivized Physical Networks (TIPIN). However, the industry now appears to have reached the next stage. consensus At Depin.
Although the term is modest, it carries with it the potential to link the Internet and the economy of things, which is the most promising area of ​​Web3. ‍ Being part of a decentralized physical infrastructure network is associated with receiving token rewards, allowing you to purchase tangible things (such as electricity). grid, communication services, web access, etc.) or networks that manage these specific functions. This is essentially utility and governance tied to real-world products and services, unlike any other feature in Web3.
‍In other words, DePIN uses blockchain and tokens to create and incentivize the adoption and use of physical infrastructure to create value. DePIN relies on decentralized networks and communities for transactions and business logic rather than centralized backends or companies.
DePIN flywheel
Because it uses tokens, DePIN projects can benefit from a positive flywheel effect. This means that increased usage (demand) increases the price of the token, which in turn provides additional incentive for contributors to continue building the network as the dollar value of the token. Salary increases.
As the network grows, investors become more and more interested and begin to support the project with funds. If the project is open source or makes contributors/users' data publicly available, the developer can build his dApp based on the data and within the ecosystem attracting more users and contributors alike. can create additional value. The image below is an example of how this flywheel works in today's market.
Source: Self-produced
The DePIN Economic Flywheel effectively solves the chicken-and-egg dilemma. Through token incentives, DePIN incentivizes participants to build and scale the supply side to the point where it is attractively used by end users. This will allow DePIN to gain adoption and build the initial momentum needed to compete with Web2 companies.
‍‍DePIN vs status quo
Here's why this new paradigm changes things in practice.
By crowdsourcing the physical infrastructure, DePIN can hyperscale faster than traditional projects because it is distributed across network participants and offset with future growth and revenue.
The community can own the hardware that makes up the network and the hardware/services it needs and uses. This aligns stakeholder interests and fosters adoption and growth.
While traditional infrastructure projects often involve centralized organizations establishing the terms and conditions of what can be done and used, DePIN is open, democratic, and accessible.
In addition to being permissionless and open, DePIN is also censorship resistant, with no central gatekeeper that can deny access for any reason.
Much of the above is great in general terms, but for innovation to be long-term it must always be underpinned by clear business benefits. In this case, DePIN offers various competitive advantages over traditional models.
By crowdsourcing the hardware and its maintenance, DePIN operates at a fraction of the capital and operating costs of traditional companies, and the model incentivizes network members to work on it so everyone benefits. You can get it.
By leveraging blockchain, DePINs provides secure peer-to-peer payments to its members without relying on the share of payment processing intermediaries.
Being Web3 native, DePIN gives network participants direct access to a variety of Web3 tools and DeFi services, such as financing new hardware, allowing them to secure even more revenue streams.
By distributing the necessary capital upfront, DePIN reduces entry barriers, brings new competition to various industries that have been dormant for some time, and fosters innovation across the board.
‍‍‍Physical Resource Network vs. Digital Resource Network
‍DePIN is divided into two groups depending on the products and services offered by the network:
Physical resource networks (PRNs) encourage people to direct or deploy location-dependent hardware to deliver real-world, non-substitutable goods and services (geospatial, mobility, energy, connectivity, etc.) To do.
Digital Resource Networks (DRNs) encourage people to direct or deploy hardware that provides fungible digital resources (storage, bandwidth, computing, etc.).
State-of-the-art
Through the competitiveness and community spirit that comes with all of the above, they will be able to influence entire industries and displace established companies as disruptors.
In the image below, the author Messariit is possible to discover ecosystem maps.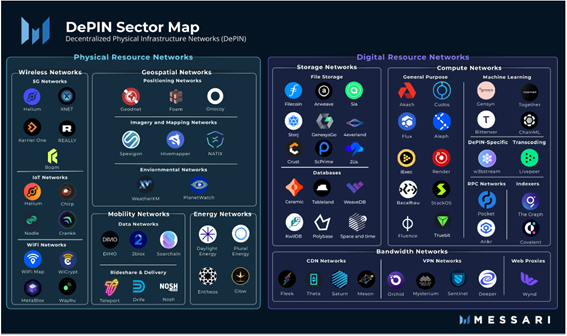 Source: Messari.io DePIN Domain Move
Telecommunications DePIN
For example, consider internet access in developing countries. Deploying the infrastructure needed to connect small, remote communities often requires high upfront costs and is almost always not profitable for businesses. DePIN allows the community to take matters into their own hands and cover the initial costs and effort themselves.
The case of access to the Internet is particularly interesting because it is a replication. As more people have access to the internet, his DePIN projects, which range from telecommunications to energy to IoT, are likely to increase.
Telefonica is clearly affected by one of the four main sub-sectors in which it already has some networks deployed and operational. That's why we're tracking its progress from within and bringing Nova Labs into the Telefonica Ventures portfolio. helium Communication network.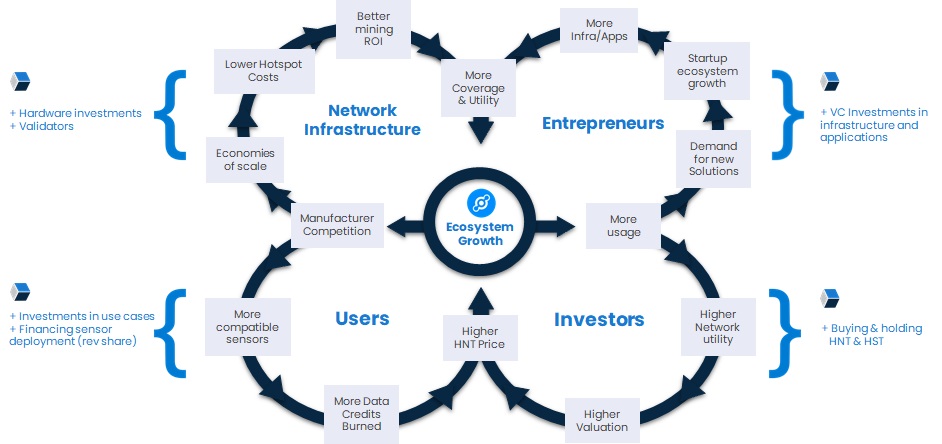 Source: Borderless, Helium Ecosystem
Telefonica Ventures is one of Telefonica's corporate venture vehicles for strategic investments. The company aims to address the major challenges facing the telecommunications industry and leverage cutting-edge technology to create new businesses and verticals in line with Telefónica's core strategy. DePIN is definitely in our investment thesis.