The highly anticipated Trade and Lender Fair 2023 is scheduled to take place on 19th August 2023 with the aim of empowering small and medium enterprises (SMEs) in Nigeria.
Hosted by leading fintech brand Trade Lenda, this extraordinary event brings together an unrivaled gathering of innovative SMEs, startups, visionaries, disruptors and industry leaders to drive business growth and foster innovation. , shaping the future of entrepreneurship in Nigeria.
Trade Lenda Fair 2023 stands out as a catalyst for revolutionizing the landscape and delivering real results for small business owners, investors and business enthusiasts alike.
We provide an unrivaled platform for selling, networking, collaborating and exchanging knowledge. Attendees will be like-minded with an even more engaging line-up of influential speakers, engaging exhibits from small businesses and start-ups, dynamic panel discussions, and a shared passion for driving positive change through business. You can look forward to the rare opportunity to connect with people.
on the theme of "Empowering Small and Medium Enterprises: Driving Innovation, Collaboration and Growth for Nation Building" Trade Lenda Fair 2023 will continue to focus on fostering an ecosystem that fosters the success of small businesses. It serves as a starting point for growing your business, providing valuable resources, expert insights and innovative products for start-ups to scale their operations.
A key aspect that sets Trade Lenda Fair apart is its commitment to inclusivity. The Trade Lenda Fair exhibition is free for small businesses. Small businesses will also have the opportunity to participate in Trade Pitch, the highly anticipated pitch competition judged by top experts such as Ayo Bankole Akintujoye, founder of SME Bootcamp and Caladium Consulting, and Ruth Iselema, CEO of Changera. . 3 winners get cumulative worth of gifts 5 million Norwegian.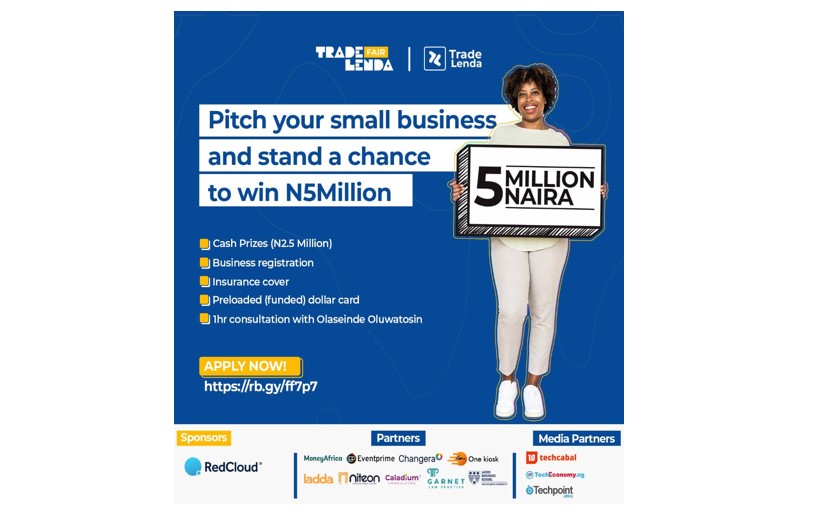 In addition, five selected SMEs from the North-Central Nigeria region (whether they are based or originated) who applied to the Trade Lenda Pitch Contest will receive a unique opportunity to participate in the Business Innovation Accelerator Program by the Lagos Business School. is given. Cooperate with Industrial Bank.
Trade Lenda Fair is also attended by small businesses and start-ups looking to engage with attendees.
Trade Lenda Fair 2023 promises a curated series of experiences and interactive sessions tailored to meet the specific needs of various industries and sectors. From engaging keynotes and thought-provoking panel sessions, to enriching masterclasses, dynamic pitch sessions, and a comprehensive exhibition involving small businesses and start-ups, Traderender Fair is the place to connect, collaborate, and grow. creating endless opportunities for exploring new avenues of
Early bird tickets are free for attendees, but they're only available for a limited time, so register now.
Registration for Trade Lenda Fair 2023 is still open, but spots are filling up, so hurry!
Registration link: https://bit.ly/3ASlVlL
For sponsorship or booth inquiries, please email oyindamola@tradelenda.com.